What is EPS? What is EPS Foam?
Teknopor EPS "expanded polystyrene foam" is an economic and lightweight thermal insulation material derived from petroleum in the form of foam, generally white thermoplastic consisting of 98% air and 2% plastic with closed porous structure.
Small polystyrene granules are heated with water vapor and expanded by inflating with pentane gas, an organic component. The pentane gas in numerous small closed pores, which form in the granules, is replaced by air during production and within a short time after production. After dried in special silos and inflated with water vapor again, the granules stick firmly to one another without any gaps and take the shape of the mold they are in, resembling honey combs; thus, EPS thermal insulation blocks known as EPS foam or EPS Styrofoam are formed.

This motionless and dry air, which is trapped in the granules with small closed pores, enables EPS thermal insulation to provide superior thermal insulation for buildings. Dry and motionless air within numerous granules constituting EPS does not create thermal bridges, and ensures excellent thermal insulation by preventing heat loss.
Teknopor is the brand for EPS products of Teknopanel. Graphite Teknopor is the brand of EPS thermal insulation boards produced with the addition of grey graphite.  Graphite Teknopor gains infrared absorption and reflectivity features with its graphite addition, and increases thermal insulation performance by reducing the material's thermal conductivity value. 
Teknopor EPS products are used in various parts of the buildings from basis to roof and from wall to floor. Alongside Teknopor and Graphite Teknopor Thermal Insulation Boards, the products manufactured under the brand of Teknopor are Teknopor Perforated Thermal Insulation Board, the light filler material used in building concrete floor Teknopor Light Filler Blocks, Teknopor Geotek Subsurface Filler Blocks used in the construction of highways and bridges, and EPS Jamb Block used as exterior trimming material. 
Technical Properties of EPS Foam
Having a durable and robust structure, EPS products are among the most practical and economic materials when applied in accordance with the standards and in correct thickness and density according to their usage area and the climate of the region.
The fact that EPS products can be manufactured in various densities facilitates to present products with the desired technical values. The motionless air in small closed pores which constitute EPS product ensures low thermal conductivity and high thermal insulation values. It is also dampproof, steam-tight, and repels water.
Environment-friendly EPS products are flexible and have a durable structure against temperature changes and time. Therefore, they do not show dimensional changes such as extension or shortening. They are also quite resistant against mechanical factors. Thanks to their lightness, they do not put extra load on the structure they are used in.
As an end product, EPS has features such as lightness, free-machining and usability in the manufacturing of other composite products together with other materials.
We fabricate all products under the roof of Teknopanel in our indoor area of 46.000 m2 in total in Mersin, Sakarya, Izmir and Istanbul. We are the most important producer of the sector with our 460 employees and an annual total production of 1.6 million m3 of EPS on 6 production lines at our facilities of advanced technology.

We use clean technology by turning towards clean and renewable energy resources in our EPS production facilities within the scope of our environmental protection policy. No solid waste is generated at the end of EPS production by using minimized water and energy consumption within a closed circuit. As the waste generated during cutting process is recyclable, it is integrated into production again immediately or afterwards. Emissions into underground resources and atmosphere are kept at minimum level and controllable point.

EPS products are especially used for thermal insulation in buildings, and are also useful for sound insulation. In addition, they offer solutions for different purposes in special engineering constructions and sectors other than construction. Usage areas of EPS get diversified and improved day by day.

Use Of EPS Products For Other Purposes In Buildings

● Expansion joints
● Manufacturing lightweight building blocks (lightweight brick, briquette etc.)
● Manufacturing filler blocks
● Thermal insulation of window shade frames
● Manufacturing lightweight concrete and insulation plaster from EPS granules
● As filling material in door production
● Manufacturing prefabricated lightweight concrete elements
● Insulation of tanks and storages
● Manufacturing composite (multi-layered finished) boards

Use Of EPS Products In Special Engineering Constructions

● Manufacturing floating piers (pontoon)
● Construction of highways in cold regions
● For increasing ground strength by filling in loose grounds
● Expansion joints of bridges

Use Of EPS Products In Other Fields

● Packaging industry
● Manufacturing lifejackets and life buoys for ships
● Manufacturing windsurfing boards
● Manufacturing small boats
● In decoration works

Use Of EPS Products For Thermal Insulation In Buildings

● Thermal insulation of walls in buildings
● Thermal insulation of inclined and terrace roofs in buildings
● Thermal insulation of flooring in buildings
● Thermal insulation of ceilings in buildings
● Thermal insulation of protrusions in buildings
● Impact sound insulation in floating floor applications in buildings
● Formation of multi-layered elements for air sound insulation in buildings (after going through special processes)
● Thermal insulation of cold storages
● Thermal insulation of pipes
● Thermal insulation of poultry houses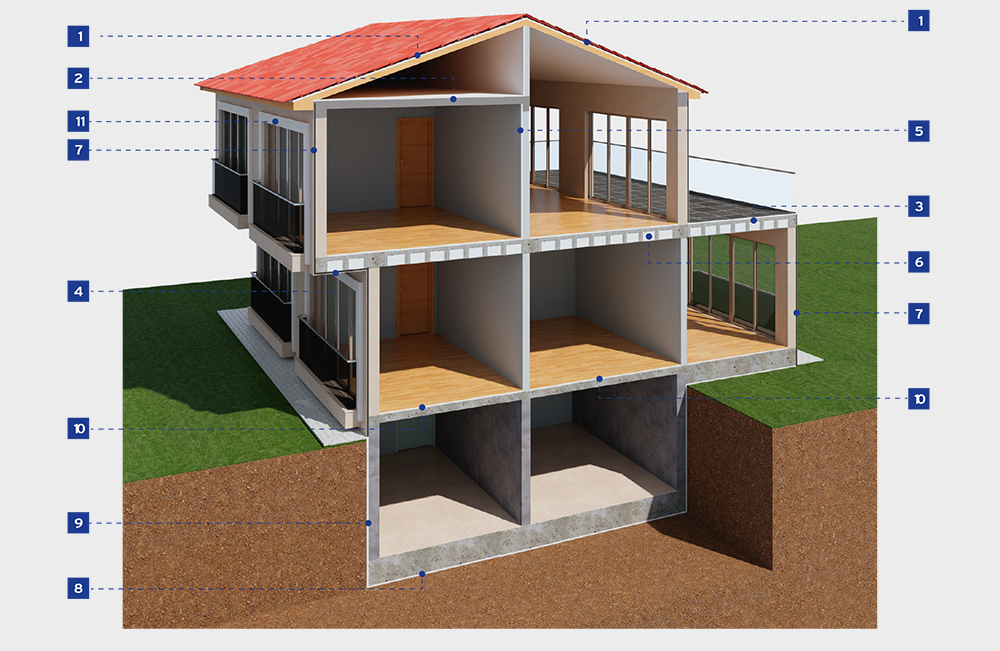 1. Thermal Insulation of Pitched Roofings
2. Thermal Insulation of Garrets
3. Thermal Insulation of Terrace Roofs
4. Thermal Insulation of Concoles
5. Thermal Insulation of Interior Walls
6. Light Filler Block of Floors
7. Exterior Wall Thermal Insulation
8. Thermal Insulation of Underfloor Layer for Basements
9. Thermal Insulation of Basement Shear Wall
10. Thermal Insulation of Floors
11. Exterior Wall Jambs
Low thermal conductivity value provides high thermal insulation.
The lower EPS thermal insulation boards' thermal conductivity value is, the more thermal insulation they provide. Thermal conductivity value of EPS boards reduces as their the density and thickness increase. As the pentane gas within EPS thermal insulation boards is replaced by dry and motionless air, its thickness does not change significantly when used under load for a long time. It preserves its low thermal conductivity value, and continues to provide e􏰂cellent thermal conductivity.

It has high mechanical compressive strength.
When preferred with the correct thickness and density according to its usage area, EPS thermal insulation board show a superior mechanical strength against long-term loading and impacts, and does not lose its thermal insulation value.

It repels water, prevents humidity and bacterial growth.

Granules of EPS thermal insulation boards sticking firmly to one another and having close pore structure ensures that the board has a very low water absorption rate when it contacts with water. Thanks to its water-repellent structure, none of its features change even though it contacts with water.Close porous structure is resistant against condensation in the air, and does not allow transmission of humid air. It prevents humidity and moisture, as well as the corrosion of load-bearing system accessories. Moreover, it prevents humidity, microorganism growth and mold in interior environments. Therefore, it protects human health.

It has high dimensional stability.
Thermal insulation materials should have high dimensional stability. Dimensional change in buildings may occur due to thermal expansion in consequence of the effect of different temperatures, as well as independently of external factors within a certain period of time after production. Dimensional stability should be considered separately according to temperature and time.The dimensions of EPS thermal insulation materials at the time of application are not deformed due to thermal and mechanical effects within time. Having a high dimensional stability, EPS is an ideal material thanks to its resistance against seasonal changes. This provides an important advantage for civil engineering applications.With its high compressive strength, EPS offers features that do not change according to load and time for floors, traffic areas, classroom and lecture hall floors and road embankments.

Its lightness is an advantage.
EPS offers a considerably advantageous weight/volume performance compared to other building materials in construction sector. As its closed porous structure consists of 98% air, it is light, and does not place additional load on buildings. It is easy to load and stack.

It is an economic solution.
The cost of EPS products for construction sector is lower by approximately 1/3 compared to other alternative products. It provides a minimum cost advantage of 20% compared to mineral wools(rock wool and glass wool). It also comes to the forefront as the most appropriate material in terms of maintenance expenses of existing buildings.The strength of EPS is high although it is a light material. It has low labor cost as it is easy to carry and can be installed quickly. Moreover, it contributes to the reduction of gas emission with low transportation costs and low fuel consumption.

It is heat and cold resistant.
Thermal insulation materials are expected to show a long-lasting and non-decreasing performance against heat and cold. Maximum resistance of EPS against high temperatures depends on the degree and duration. EPS can be used until 75-85 oC at maximum and -180 oC at minimum according to density and environmental conditions over the long term. This resistance feature increases the number of areas EPS is used.

As per TS EN 13501-1, EPS boards are classified as materials having a minimum fire performance of "E" and consisting of raw materials defined as B1 flame proof. When EPS thermal insulation boards are used as components of exterior thermal insulation systems outside of buildings, they have a fire performance of B. When used coated with materials such as plaster, alum or plasterboard, it is included in the fire performance class of the coating material used on it, because it is not in direct contact with the source of flames.

It is easily shaped and processed.
EPS thermal insulation boards inflate in the form of granules with the process applied at the final stage of production. The inflated granules take the shape of the mold they are in. EPS board produced as blocks can be easily cut in required shapes after production.

It provides excellent thermal insulation.
Thanks to the dry and motionless air in its closed pores, EPS provides e􏰂cellent thermal insulation. It is applied in zones where thermal bridges may occur, and surround the building in all sides. It plays an important role in reducing the building's energy consumption by cutting down heating expenses in winter and cooling expenses in summer. Therefore, it does not increase environmental pollution as it uses less fuel.

It is installed quickly and easily.
EPS application is quick and easy thanks to its flexible and lightweight structure. Therefore, it saves time and keeps labor costs low.

It has a flexible structure.
Air pockets in EPS' pores provide cushioning by serving as a buffer. It absorbs the force of impacts or pressure, prevents contracting or stretching in temperature changes, and is not fragile.
EPS (Styrofoam) prices varies from the type of the product to be used to its technical features and sizes. EPS thermal insulation products are more economical compared to other construction materials with the same performance. You can save by preferring Teknopanel EPS products for the needs of your construction such as insulation foam, Styrofoam, EPS thermal insulation materials etc.

When it comes to determine the EPS prices, the right EPS (Styrofoam) product should be chosen according to the features and intended use of the building. The desired thermal conductivity and values of density are also important alongside the size details such as length, width, height of the Styrofoam while calculating the Styrofoam prices. 
After the polystyrene granules are heated with water vapor, inflated with pentane gas and subject to pre-expansion, the pentane gas in EPS blocks replaced with air at short notice. After dried in special silos and inflated with water vapor again, the granules stick firmly to one another without any gaps and take the shape of the mold they are in, resembling honey combs; thus, EPS blocks are formed. EPS blocks can be used for purposes such as thermal Insulation, floor filler, and exterior trimming. EPS block prices vary according to the type, size and density of the material used. 
EPS Light Filler Block Prices
Teknopor EPS Light Filler Blocks products are used as filler materials in buildings. EPS Light Filler Blocks, generally used to fill the gaps in building, do not place an additional burden as a lightweight filler material and ensures you save on iron, concrete and mold which are used at the construction. EPS light filler block prices vary according to the product features such as density, width, length and thickness.  
Carbonaceous EPS products are leaden Styrofoams derived with the graphite additive during EPS production. The graphite addition in carbonaceous EPS products makes the product gains infrared absorption and reflectivity features, and increases thermal insulation performance by reducing the material's thermal conductivity value. It provides thermal insulation at a greater degree than the white or pink EPS thermal insulation sheets. 
Carbonaceous EPS prices vary according to the purpose, extent, size of the area to be used and the desired density of it. The flexibility to be produced with the requested features prevents material waste and unnecessary cost increase.  
EPS jamb blocks used in the production of jambs, which are the exterior trimming material, are preferred thanks to their features such as being easy to process, being lightweight and providing thermal insulation. The dimensions of the jamb blocks are fixed, but diverse densities are available for them. EPS jamb block prices also vary according to the density. 
Exterior Thermal Insulation Prices
Thermal insulation is ensured by preventing heat transmission between indoor and outdoor in buildings with exterior thermal insulation or siding. It reduces energy expenses and achieves savings over 50%.
Exterior thermal insulation system, which can be ordered as a system, includes white or carbonaceous thermal insulation boards as well as adhesive, decorative plastering types and mounting accessories.

Exterior Thermal Insulation prices are calculated according to the type of the carbonaceous foam or Styrofoam to be chosen, the desired thermal insulation coefficient and density value, and the Styrofoam sizes such as length, width and height. Thermal insulation prices are calculated over square meter unit.

Please contact us to get detailed information on EPS prices so that the right product fitting to your need is determined and you can get a fair price. 

For more information about Styrofoam or thermal insulation, exterior thermal insulation and other products' prices, you can call us from +90 0850 777 0850 contact number or fill in the information form.